Interior Design vs Interior Decorating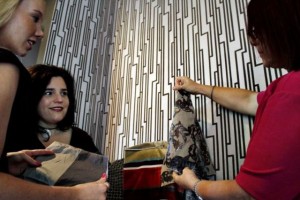 Learn the Important Differences Between These Two Professions:
Interior design and interior decorating are often mistaken for being the same thing, but the terms are not interchangeable. While they have many similarities, interior design and interior decorating have a few differences: some subtle, some significant.
What is Interior Design
Schooling – Interior design is a profession that requires specific schooling and formal training. The work involved usually includes studying color and fabric, computer-aided design (CAD) training, drawing, space planning, furniture design, architecture and more.
Upon graduating designers often apprentice with a registered and established interior designer before moving on to create their own companies.
Credentials – In most states and provinces professionals are required to pass an exam and become registered with a governing council (which one will depend what country and state/province he or she is in) before they can be called designers.
What They Do – Designers are comfortable with spatial planning and can help design and renovate interiors, right from drawing up the initial floor plans to placing the last decorative accent. They don't just enhance the look, they enhance the function of a room.
Who They Work With – Interior designers often work closely with architects and contractors to help achieve the look the client desires, whether that client is designing a residential home, an office, a hotel, or any other interior space.
What is Interior Decorating
Schooling – Interior decorators don't need to have formal training or schooling because decorators focus primarily on aesthetics.
Decorators don't generally take part in renovations or structural planning. They come in after that part is complete and focus on the surface look of the space.
Credentials – Even though no schooling is required to become an interior decorator there are many programs and courses available. These courses often focus on color and fabric, room layouts, space planning, furniture styles and more.
What They Do – Decorators are great for coming into a room and whipping it into shape. They can help clients decide on a style, choose a color scheme, purchase furniture, and accessorize. They're often brought in to spruce up an existing space that needs to be updated or redone.
Who They Work With – Decorators don't generally work with any contractors or architects since structural work is usually complete before they come on board. They do however sometimes work with furniture makers, upholsterers, and other industry professionals.
Should I Hire a Designer or a Decorator
Who you should hire will depend on your needs. If structural changes are desired (such as removing a wall, moving plumbing around, or adding new windows or doors) an interior designer is the better choice. They can help plan for significant structural changes and help make them happen.
If there are no structural changes needed but you need help deciding on a style; choosing wallpaper, paint, and furnishings; picking window treatments, and choosing lighting and accessories, a decorator will probably do the trick. They know what works together and can transform a room to suit the clients' needs and desires, without doing any technical work.
Both interior designers and interior decorators create beautiful and functional spaces, but they are separate professions. Assess your needs before deciding which one to hire.
Originally posted on About.com
By Lauren Flanagan